Welcome to the Liberty Center of New Hampshire, United States of Amerika (a British colony), the land of communistic/socialistic fascism, near the banks of the Merrimack river.
This site is dedicated to the concepts of liberty, including various sound money currencies, precious metals/coins, and personal liberty/sovereignty.

American Open Currency Standard




The Star Spangled Banner as you've never heard it before!



Current Debt Ceiling
$20,493,000,000,000

---
---
Euros vs. Dollars

A green arrow ▲ means the
U.S. Dollar is getting stronger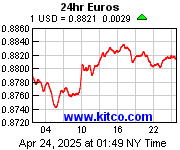 ---
---